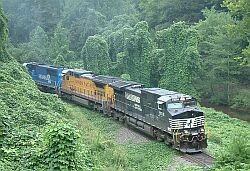 Welcome to the RRPictureArchives.NET contributor site of Michael Mainridge.

Hi, I have been taking photos of trains since I was ten years old. Unfortunately, I did not get a decent camera until I was an adult. Since I grew up in the St. Louis area, I had the opportunity to see a wide variety of railroads (especially in the pre-merger era).




I lived in Portland, Oregon for 10 years and I enjoyed watching the massive modern units dash by with stack trains and mixed manifests. While it is fun to reflect on the past, it is just as important to pay attention to what is happening around you today. It is constantly changing.




I will post photos from different time periods and places as I scan in my printed photos. I also have high quality digital photos from recent years.






You may browse my collection of pictures via the menu located on the left hand side of the page. I hope you enjoy the collection and thanks for stopping by!
Note: This site is best viewed in Internet Explorer 6.0 or above.
Select one of the links from the menu on the left to begin browsing the collection.